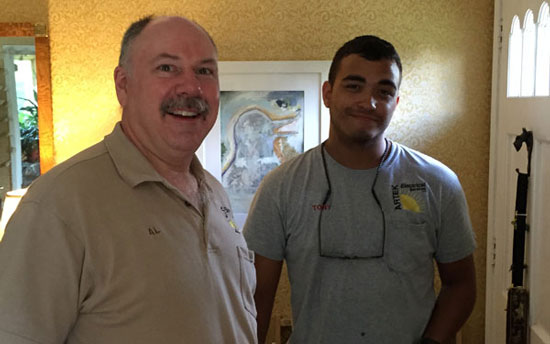 Allen Rousseau and Tony Cotto
Supporting our local community:
We've worked with a variety of local businesses including;
Glastonbury Kiwanis - Glastonbury Bicycle Tour.

Glastonbury Rotary Club with building of Manny's House.
The New Covenant United Methodist Church, East Hartford, using our staff and trucks to help transport and distribute food in the churches mission projects.
We support Christian Radio Station WIHS Middletown with ongoing electrical support for the radio station and facilities.
allen rousseau
When I was young I enjoyed tinkering with gadgets, electrical electronics, and mechanical types of things, and I always enjoyed learning about new technology. One of my first jobs was working at Radio Shack where I continued to learn about electronics. After High School, I worked a variety of jobs but still unsure of a career path so I attended school for mainframe programming. Trying to obtain a job in programming without a college degree was not working out well so I went back to school to get my degree. After a few years of college at night while working I became frustrated. One of my friends who is an electrician turned me on to the apprenticeship program with the state. I got a job working with him as an electrician apprentice working for a company that specialized in heating & air condition control systems. In case you are not familiar with that- it is like your thermostat controlling your furnace or air conditioning. But on a much larger scale. Large facilities, like hospitals, high rise buildings, water treatment plants, waste treatment plants all have elaborate control systems to run equipment. A computer collects data from sensors we would install and controls motors, fans, compressors to accomplish tasks. I was fascinated by this automation. My knowledge of PC's, electrical and mechanical just started to grow with a fascination with this and I continually evolve as technologies advance. I still try to keep up with it, but mostly focus on what is turning into "industry standards", so products and concepts will be understood and be able to be serviced by others as well as myself.
Now with my own business, I continue my passion for control systems, automation, home theatre, PC networking etc...with great enthusiasm.
Another part of me has to do with work ethics, and my character I believe relates to how I deal with clients on projects. This is my faith in God. Regularly, we hear about scams and dishonest dealings. If you don't know the individual you are hiring to work on your project, "do you trust them", "what is there integrity",etc...this should not be used as in excuse to qualify a person's character, but my faith keeps me going, and hope to continually grow into a better person. But I do want to share that with you! I also give glory to God for everything we have and are able to do! I do my work with the quality as best I can.
---